ARTICLES / How to Make Epoxy Topcoat Paints | Production Process
Epoxy topcoat paint is an Epoxy resin and pollyamid hardener,based high chemical and physical resistance two components top coat paint.

based and two component epoxy topcoat paint is applied on petrochemistry,sugar etc.Chemical proses units,bridge,underground and ship constructions.
SOLVENT BASED


EPOXY TOPCOAT PAINT
FORMULATIONS
AND
MANUFACTURING PROCESS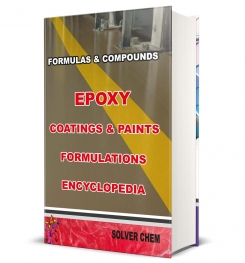 MANUFACTURING PROCESS OF SOLVENT BASED EPOXY TOPCOAT COATING PAINT is not very complicated. For the production, there is need usable and tried a formulation, raw materials and mixing tank. For raw materials to be used, quantities to be used and ingredients usage rankings
, you should decide to look into this formulation. Therefore, formulation and product─▒on methods of
solvent based epoxy topcoat paint
are important. If you have not a good formulation, you cannot make healthy and efficient production of any
solvent based epoxy topcoat paint
.
If you need any
manufacturing formulations
and
production methods
about