ARTICLES / FULVIC ACID FERTILIZER BENEFITS | ADVANTAGES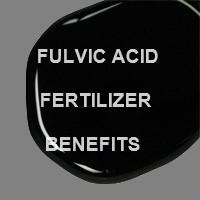 Fulvic acid's primary role is as a digestive aid in your system. There is a correlation between the fulvic acid content in your foods and the quality of soil the foods are grown in. Many mass-produced fruits and vegetables contain less fulvic acid because of the mineral depletion of the soils they are grown in. Fulvic acid can be purchased as a supplement from nutrition and supplement stores and can be taken daily as a nutritional aid.
Nutrient Assimilation
Fulvic acid is an excellent transporter of energy-rich nutrients, and the electrolytes found in fulvic acid increases your body's ability to absorb these nutrients through your digestive system. Fulvic acid helps your digestive system process vitamins, minerals, proteins and herbs. Fulvic acid supplements are most effective when taken with or before meals.
Cell Life Balance
The powerful organic electrolyte properties of fulvic acid help to balance the lifespan of cells, sometimes even prolonging their lifespan. According to NaturalNews.com, fulvic acid can actually revitalize dead or dying cells--at least temporarily--and extend their use. Fulvic acid can help process heavy metals found in cells so that they move through the system with greater efficiency and improve cell health.

FOR ALL
ORGANIC FERTILIZER
FORMULATIONS AND PRODUCTION PROCESS