ARTICLES / Properties of Polyurethane self leveling Floor coatings | Applications


Application area
Floor can be used in factories, warehouses, garage, concrete surface which needs chemical and mechanical resistance and all hygienic places.
Mixture
Component A mixed with a low circuit mixer.(400 tour/minute). Component B adds into the Component A and again mixed for a 2-3 min. Silis sand required applications; put the mixture into a clean pot and again mixed with sand for 3-4 min.
The homogenous mixture applied to surface as required thickness with suitable tools. For avoiding the air bubbles; hedgehog roll should be used. Application can be done with notched trowel.
Surface
The surface should be purified from humidity. The application field should be cleaned out all other coatings and purified from oil, dust, dirt and slack materials. The surface temperature should be +5ÂșC and humidity ratio should be max. 4%.
Primer
Surface should be undercoated with primer. For absorbent surfaces the second ply should be applied. Duration time before application of second ply; after be sure of the first ply get dry . If higher resistance required Silis sand should be put on to the primer before getting dry totally.
Application time
It depends on the size of pot and weather temperature. For 500 gr mixture, at the +23ÂșC temperature, approximately 25 minute. Application time can be reducing at high weather temperatures.
Storage
Pails should be stored ina dry and cool rooms for up to 6 months. Protect the material against moisture and direct sunlight. Production date is on label. Packages should be storage upward.

Polyurethane
Self Leveling Floor Coatings
Formulations
And
Manufacturing Process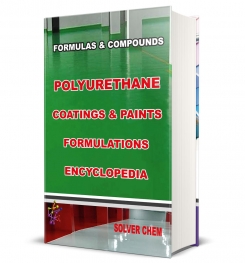 Manufacturing Process of Solvent free polyurethane self leveling floor coating is not very complicated. For the production, there is need usable and tried a formulation, raw materials and mixing tank. For raw materials to be used, quantities to be used and ingredients usage rankings
, you should decide to look into this formulation. Therefore, formulation and productıon methods of
solvent free polyurethane self levelling floor coatings
are important. If you have not a good formulation, you cannot make healthy and efficient production of any
solvent free polyurethane self levelling floor coatings
.
If you need any
manufacturing formulations
and
production methods
about
Two Component And Solvent Free
Polyurethane

Self Levelling Floor

Coatings
POLYURETHANE

COATINGS AND PAINTS

FORMULATIONS

ENCYCLOPEDÄ°A
is enough.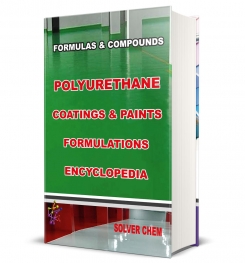 This encyclopedia has many formulations of polyurethane pigment paste, preparation polyurethane color pigment paste, solver free polyurethane coating formulation,production of two component polyurethane self leveling floor coatings, making scratch resistant polyurethane coatings self leveling, formulation of acid resistant polyurethane self leveling floor coatings, manufacturing process of flame retardant polyurethane coating floor self leveling, polyurethane concrete floor coating formula,how to make polyurethane concrete coatings, types of polyurethane concrete floor coatings, solvent fee thre component polyurethane paints formulas, two componet polyurethane paints productions, white polyurethane paints formula, red color polyurethane coatings manufacturing process,composition of solvent based polyurethane coatings, solvent based and two component polyurethane paint preparation, solvent based and scratch resistant polyurethane paint production, polyurethane primer productions, gloss polyurethane paint formulations,semi - matt polyurethane coatings formula, mat polyurethane paints formulations, production of two component polyurethane flame retardant products, polyurethane thinner making, transparent polyurethane adhesive production, filler added polyurethane adhesive making, two compoenet polyurethane adhesive formulation and production procerss,wood dhesive,solvent free metal adhesives, stone adhesives,tile adhesives,marble adhesive productions, glass adhesive formula,making polyurethane based grout mortar,two component tile polyurethane grout mortar,solvent free polyurethane anchoring adhesive putty, formulations of polyurethane putty,anti corrrosive polyurethane primer formulations, solvent based polyurethane topcoat paints formula, two componet and solvent based polyurethane paints production process.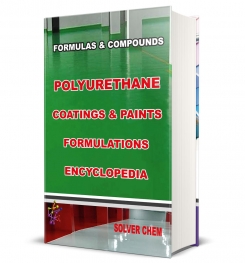 All polyurethane coatings and paints in the encyclopedia are producible easily. You need no help and no technıcal support. The encyclopedia is enough to produce
solvent free polyurethane coatings & paints
itself.
POLYURETHANE

COATINGS AND PAINTS

FORMULATIONS

ENCYCLOPEDIA
is written clear and understandable.